The Future is Fun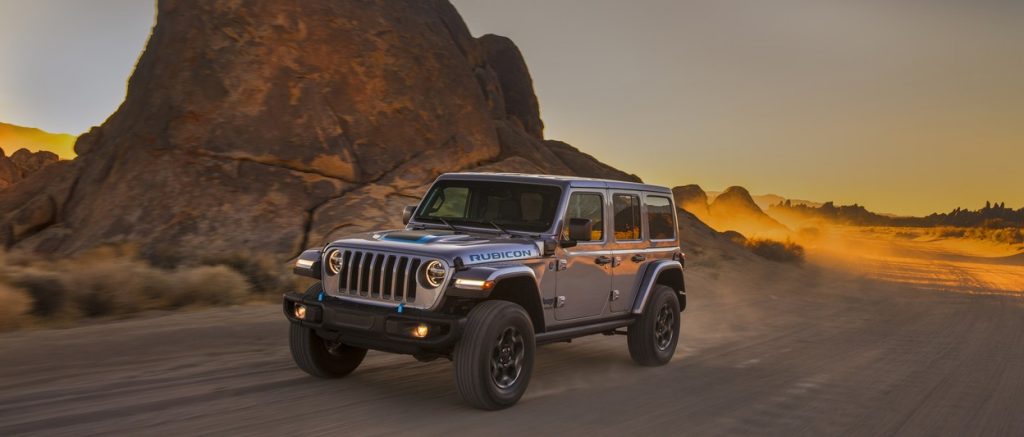 Coming soon - the 2021 Jeep Wrangler 4xe will provide Wrangler customers with an advanced 4xe eco-friendly plug-in hybrid solution. Experience a quiet open air freedom, fun to drive on road with improved power and capabilities.
The 2021 Jeep Wrangler 4xe's plug-in hybrid 2.0L turbocharged PHEV engine will reduce emissions to the environment without giving up power and play.
The Wrangler 4xe goes from 0 to 97 km/h in 6.5 seconds. It has increased performance on and off-road, with 375 horsepower and 470 lb-ft of torque.
Electric alone power will last up to 40 km. Hybrid mode will take you up to 640 km on a longer drive.
The Future is the Jeep Wrangler 4xe
The 2021 Jeep Wrangler 4xe is a PHEV, a plug-in hybrid electric vehicle. It has a gas engine and an electric motor powered by battery. Charge the battery at home by plugging it in. The Wrangler 4xe is the first plug-in hybrid for the Jeep Brand. More models will be announced soon.
The Jeep Wrangler 4xe has E-Selec driving modes. This allows you to decide to use electricity, gas or a combination of the two. It is easily recharged in your home or at public charging station. Even if your electric motor isn't charged, the Wrangler 4xe's gas engine allows you to continue to drive.
Adventures you expect in a Jeep
The Jeep Wrangler continues to be a go-anywhere 4x4 with Trail Rated running gear: solid front and rear axles, full-time 4x4 two-speed transfer case, fully articulating suspension and 76 cm of water fording capability. The 2.0L I-4 DOHC direct-injection Turbo plug-in hybrid engine is paired with the Selec-Trac Full-Time 4x4 System. Rubicon models boast the Rock-Trac Full-Time 4x4 System to provide option traction on any terrain.
---
Find the 2021 Jeep Wrangler 4xe at Dunn Ram Trucks in Portage la Prairie when it arrives at dealerships later this year. Contact us to get updates on the 2021 Jeep Wrangler 4xe.
---